Streamy Awards: MrBeast Wins Creator of the Year 2023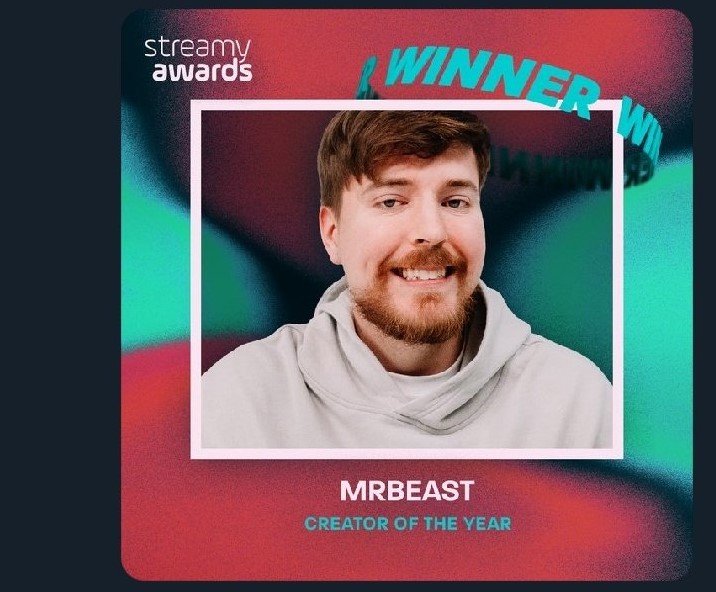 The 13th annual Streamy Awards brought the digital content creation world into the spotlight once again, celebrating the best and most innovative creators across a diverse range of categories.
Hosted by the Game Theorists creator MatPat, the event showcased remarkable talent and groundbreaking achievements within the digital sphere.
Among the luminaries recognized at the ceremony, MrBeast emerged as a standout, securing the coveted Creator of the Year award and solidifying his status as one of the most influential and impactful figures in the digital landscape.
MrBeast, known by his real name Jimmy Donaldson, stole the show by clinching not one, but two awards out of the five he was nominated for. His outstanding contributions to the online realm were acknowledged with the Creator of the Year accolade, a recognition that reflects his dedication, innovation, and ability to capture the hearts of millions. In addition to this prestigious title, MrBeast also secured the Collaboration award for his creative endeavor alongside the iconic Dwayne "The Rock" Johnson. The rock-paper-scissors video, in which Johnson's uncanny choices became the focal point of amusement, demonstrated the power of collaboration and the boundless creativity that can emerge when two influential figures join forces.
However, MrBeast wasn't the sole star of the night. The Streamy Awards highlighted a constellation of other remarkable individuals and groups who have made significant contributions to the digital realm. The Jonas Brothers, celebrated for their remarkable crossover achievements, stood tall as winners in the crossover category. Logan Paul, who has managed to transcend digital fame into various avenues, took home the Creator Product Prize. Meanwhile, Jay Shetty's thought-provoking podcast "On Purpose" earned him well-deserved recognition.
Notable social media influencers and personalities also shone brightly at the ceremony. TikToker Dylan Mulvaney, who gained prominence but also faced controversy following a Bud Light social media promotion, was awarded the Breakout Creator award. Additionally, the Streamys acknowledged the trans influencer's journey and impact, acknowledging the evolving dynamics of digital influence.
The Streamy Awards also embraced a sense of global inclusivity, awarding the international prize to Spain's ibai. This recognition underscores the international nature of digital content creation, transcending geographical boundaries and language barriers to touch audiences worldwide.
Beyond individual accolades, the Streamy Awards also highlighted the collective accomplishments of creators, celebrating iconic brands like Mattel's Barbie, which was named Brand of the Year. The success of the Barbie movie, breaking box office records, showcases the enduring appeal of digital media and its potential to redefine traditional narratives.
Music remained a pivotal force in the digital landscape, with Meghan Trainor's "Made You Look" emerging as the Sound of the Year. This award celebrated the song's ability to capture the essence of social media content creation and resonate deeply within popular culture.
Furthermore, the Streamy Awards recognized individuals who have made a difference beyond their creative endeavors. Special Creator Honor awards were presented to The Korean Vegan, Brittany Broski, and Vivienne Medrano, underscoring the influence of creators not only in entertainment but also in broader cultural conversations.
The Streamys, with their diverse array of over 45 categories spanning beauty, comedy, food, gaming, music, podcasts, and sports, provided a comprehensive view of the ever-evolving digital landscape. The event's performances, appearances, and presentations underscored the dynamic nature of the digital world, highlighting the intersections between online content creation, entertainment, and societal impact.
As the 13th edition of the Streamy Awards concluded, it left no doubt that the digital sphere continues to redefine entertainment, culture, and communication. The recognition of MrBeast as the Creator of the Year and the triumphs of other esteemed creators reflect the growing influence of digital content in shaping the way we engage with media and with each other.
A complete list of winners follows.
OVERALL AWARDS
CREATOR OF THE YEAR 
Airrack
Alix Earle
Charli D'Amelio
Jay Shetty
JiDion
Logan Paul
Mikayla Nogueira
MrBeast (WINNER)
Ryan Trahan
Zach King
SHOW OF THE YEAR      
AMP 
BRYCE • Brandon Rogers
Challenge Accepted • Michelle Khare (WINNER)
Chicken Shop Date • Amelia Dimoldenberg
Good Mythical Morning
Hot Ones • First We Feast
I spent a day with • Anthony Padilla
RDCWorld 
Sam and Colby 
UNHhhh • WOWPresents
STREAMER OF THE YEAR             
Emiru 
HasanAbi 
Ironmouse 
IShowSpeed 
Kai Cenat (WINNER)
Ludwig 
Quackity 
tarik 
Valkyrae 
xQc 
INTERNATIONAL             
Enaldinho (Brazil)
Gaules (Brazil) 
ibai (Spain) (WINNER)
Khaby Lame (Italy)
Mikecrack (Spain) 
SHORT FORM                   
the cheeky boyos
Chris Olsen (WINNER)
Connor Price 
Elyse Myers 
Rich Black Guy 
INDIVIDUAL AWARDS
BREAKOUT CREATOR    
Alix Earle 
Drew Afualo 
Dylan Mulvaney (WINNER)
Jake Shane • octopusslover8 
Keith Lee 
BREAKOUT STREAMER  
Agent00
ExtraEmily
Fanum (WINNER)
filian
Shylily
COLLABORATION 
albert_cancook, Chef Rush • Protein Burrito with The Big Man Chef Rush
Cleo Abram, Marques Brownlee • Quantum Computers, explained with MKBHD
Cooking With Lynja, Nick DiGiovanni • Japan Vlogs
Haley Kalil, Jared Leto • In this economy
MrBeast, Dwayne "The Rock" Johnson • Surprised he didn't pick rock every time (WINNER)
CREATOR FOR SOCIAL GOOD 
Beast Philanthropy
DrLupo • St. Jude Children's Research Hospital
Invisible People (WINNER)
jacksepticeye • World Central Kitchen
MrBallen • MrBallen Foundation
CREATOR PRODUCT      
BÉIS • Shay Mitchell
CrunchLabs • Mark Rober
Feastables • MrBeast
POPFLEX • Blogilates
PRIME • Logan Paul x KSI (WINNER)
CROSSOVER     
Hailey Rhode Bieber
Jonas Brothers (WINNER)
Kate Hudson 
Lili Reinhart, Camila Mendes, Madelaine Petsch • blondebrunetteredhead
Paris Hilton 
FIRST PERSON                  
Airrack
BENOFTHEWEEK 
Danny Duncan 
Ryan Trahan (WINNER)
Safiya Nygaard
JUST CHATTING               
HasanAbi
Kai Cenat
Quackity (WINNER)
xQc
YourRAGE 
VARIETY STREAMER      
Emiru 
IShowSpeed (WINNER)
LIRIK 
Ludwig
Valkyrae
VTUBER
filian
Gawr Gura (WINNER)
Ironmouse
Jaiden Animations
shxtou
MUSIC AWARDS
ROLLING STONE SOUND OF THE YEAR   
Area Codes • Kaliii 
Boy's a liar Pt. 2 • PinkPantheress, Ice Spice
GOATED. • Armani White
Here With Me • d4vd 
In Ha Mood • Ice Spice 
Made You Look • Meghan Trainor (WINNER)
Players • Coi Leray 
Pretty Girls Walk • Big Boss Vette
Unholy • Sam Smith, Kim Petras 
What It Is • Doechii 
SHOW AWARDS
PODCAST            
Call Her Daddy
H3 Podcast
IMPAULSIVE
On Purpose with Jay Shetty (WINNER)
The Yard
SCRIPTED SERIES
BRYCE • Brandon Rogers (WINNER) 
Dhar Mann
The Game Theorists 
Ginormo! • Steven He 
RDCWorld
UNSCRIPTED SERIES      
Challenge Accepted • Michelle Khare
Chicken Shop Date • Amelia Dimoldenberg
Hot Ones • First We Feast 
I spent a day with • Anthony Padilla
Sam and Colby (WINNER)
SUBJECT AWARDS
ANIMATED
Haminations
HELLUVA BOSS • Vivziepop (WINNER)
Jaiden Animations
The Land of Boggs 
MeatCanyon
BEAUTY
Brad Mondo
colleen.makeupp 
Mikayla Nogueira (WINNER)
MissDarcei
NikkieTutorials
COMEDY             
DeMarcus Shawn 
Kris Collins 
Lucas Lopez 
The McFarlands 
RDCWorld (WINNER)
COMMENTARY                
Chad Chad 
D'Angelo Wallace 
Danny Gonzalez 
Kurtis Conner 
penguinz0 (WINNER)
COMPETITIVE GAMER  
iiTzTimmy
Scump 
tarik
TenZ (WINNER)
Typical Gamer 
DANCE                
Cale Brown 
Enola Bedard (WINNER)
Matt Steffanina
Merrick Hanna
yoolwxnder 
FASHION AND STYLE     
Gunnar Deatherage
Kenz Lawrén
Max Alexander 
Mina Le
Wisdom Kaye (WINNER)
FOOD 
Alexis Nikole 
Chef Reactions 
Cooking With Lynja
Nick DiGiovanni (WINNER)
Nigel Ng 
GAMER               
Aphmau
Caylus 
Dream (WINNER)
Markiplier
TommyInnit
HEALTH AND WELLNESS
Austen Alexander
Doctor Mike
Dr Julie (WINNER)
HealthyGamerGG 
LeanBeefPatty
KIDS AND FAMILY 
Brittikitty 
Gracie's Corner 
Ms Rachel (WINNER)
Rebecca Zamolo
Recess Therapy 
LEARNING AND EDUCATION      
Big Weird World
Colin and Samir
TierZoo (WINNER)
Tom Scott
Veritasium
LIFESTYLE  
AMP (WINNER)
Bretman Rock 
Charli D'Amelio
Kara and Nate
Sofia Richie Grainge 
NEWS
Brian Tyler Cohen
Gay News • Josh Helfgott
HasanAbi (WINNER)
The Philip DeFranco Show
Task & Purpose 
SCIENCE AND ENGINEERING      
Allen Pan 
Hacksmith Industries 
I did a thing (WINNER)
Mark Rober
techjoyce
SPORTS               
Deestroying
Duke Dennis 
Good Good Golf
Jesser (WINNER)
Olivia Dunne 
TECHNOLOGY                   
iJustine
Linus Tech Tips
Marques Brownlee (WINNER)
Mrwhosetheboss
Supercar Blondie 
CRAFT AWARDS
CINEMATOGRAPHY       
Ashley Xu
Cole Walliser 
Lyrical Lemonade
Recider (WINNER)
Will Freeark 
EDITING              
Cooking With Lynja
Jet Lag: The Game 
Kelly Wakasa 
Savanah Moss 
Yes Theory (WINNER)
VISUAL AND SPECIAL EFFECTS                  
Buttered Side Down
Corridor Crew
Justin Yi 
SoKrispyMedia
Zach King (WINNER)
WRITING                                       
CalebCity 
Dami Lee 
Josh Zilberberg 
Leo González (WINNER)
Petey 
BRAND AWARDS
AGENCY OF THE YEAR   
BENlabs  
Content+
kvell
Reach Agency (WINNER)
Whalar
BRAND ENGAGEMENT   
Dumb Ways to Die • PlaySide Studios
Feastables • MrBeast
No Drone? No Problem! • Insta360 (WINNER)
Subs for Subs • Jersey Mike's x TSM
SweeTARTS Film Fest on TikTok • SweeTARTS x Content+ 
BRAND OF THE YEAR     
Barbie • Mattel (WINNER)
Chipotle Mexican Grill
Insta360
Old Spice • Procter & Gamble
Prime Video • Amazon 
BRANDED SERIES
A Style Is Born • Wayfair x Made In Network 
LIVE@4:25 • Totino's Pizza Rolls x the cheeky boyos, Flighthouse, Content+ (WINNER)
Plot Pitch • Prime Video
Real People, Real Stories • AARP
Who Wore It Best • Netflix x Harry Jowsey
BRANDED VIDEO                 
ASMcaR • Nissan x Donut (WINNER)
Give Odor The Bird • Old Spice x SypherPK x United Esports
My poor friend • Photoshop Express x beeveekee
Wait for it #corn • Chipotle Mexican Grill
When u meet her dad and Old Spice saves the day • Old Spice x Adam W 
INFLUENCER CAMPAIGN
heinzmasterz • Heinz x Whalar 
Blasting to the Top • Gel Blaster x BENlabs (WINNER)
Chainsaw Man Viewing Party • Chainsaw Man x Crunchyroll
DiGiorno Made Us Do It • DiGiorno x Reach Agency 
Nebula • Standard
SOCIAL IMPACT CAMPAIGN
Barbie You Can Be Anything Series • Barbie x Mirrored Media 
Loot for Good • Call of Duty Endowment x Activision 
Play by the Rules • International Committee of the Red Cross x PopShorts (WINNER)
Real Recipes for Real Change • Chipotle Mexican Grill x The Farmlink Project x Nick DiGiovanni
The ReTok Shop • Nature Valley x Content+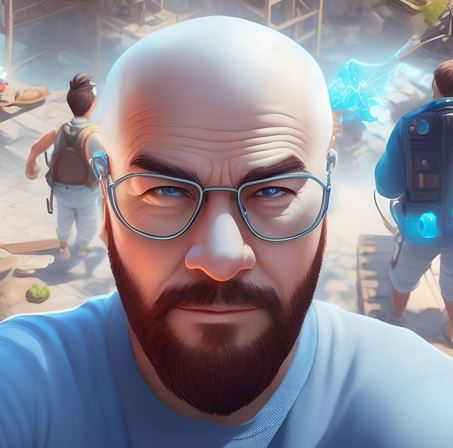 Introducing the ultimate hub for MrBeast fans and burger enthusiasts! Discover the latest news, updates, and behind-the-scenes insights into MrBeast's world-famous burger chain on this dedicated website. As a fellow fan, I've personally tried and tested a variety of MrBeast burgers, from the classic Chris burger to the irresistible Smash burger. Join me in this culinary journey and stay informed about new menu items and charity campaigns.
Don't miss out on the opportunity to satisfy your taste buds—bookmark this website and get ready for a burger experience like no other! If you have any complaints regarding my content or news, please email me @ mbeastnews@gmail.com
Thanks and Regards
Bobby