MrBeast Poised to Overtake T-Series in Subscribers within 13 Months, SocialBlade Reveals!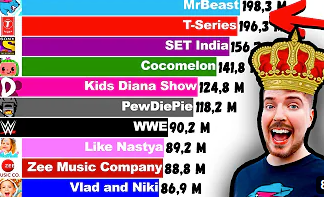 Image Credits: YouTube
From donating massive sums of money to charities and individuals in need, to organizing grandiose challenges and stunts, MrBeast has forged a unique path on YouTube, winning the hearts of millions of viewers worldwide.
In a fierce competition for the title of YouTube's most subscribed channel, MrBeast, the philanthropic content creator and internet sensation, is on the brink of surpassing T-Series within the next 13 months, according to a recent analysis by SocialBlade.
Ever since the epic duel between PewDiePie and T-Series captivated the YouTube community from 29 August 2018 to 28 April 2019, the coveted position of the most subscribed channel has remained a hotly contested battleground in online rivalry.
The current leader, T-Series, a prominent Indian music and film production company, has held the top spot since surpassing PewDiePie's long-standing reign.
MrBeast Poised to Overtake T-Series
However, recent trends suggest a dramatic shift in the subscriber count hierarchy. SocialBlade, a widely respected analytics platform for social media statistics, has revealed that MrBeast is quickly closing in on T-Series' subscriber count.
With his relentless commitment to creative philanthropy, captivating challenges, and viral videos, MrBeast has gained immense popularity and support from his ever-growing fanbase.
MrBeast has already surpassed Cocomelon and left Google behind also.
MrBeast's content, characterized by jaw-dropping acts of kindness and ambitious undertakings, has resonated with viewers seeking uplifting and entertaining experiences online.
Whether it's planting millions of trees, buying out entire stores for lucky shoppers, or hosting monumental challenges with life-changing prizes, MrBeast's creativity knows no bounds.
The ongoing battle for YouTube supremacy has captivated both creators and fans alike, with millions eagerly tracking the rise and fall of subscriber counts.
The anticipation surrounding MrBeast's potential feat has generated an incredible buzz within the YouTube community, as enthusiasts eagerly await the outcome of this epic clash.
Conclusion
As the race for the top intensifies, it is clear that the battle for YouTube supremacy is far from over.
The outcome of this clash between MrBeast and T-Series will not only determine the reigning champion but also serve as a testament to the evolving nature of online entertainment and the power of individuals to make a significant impact on a global scale.
Only time will tell if MrBeast can fulfill the projections put forth by SocialBlade and surpass T-Series in subscribers.
Until then, viewers around the world will continue to rally behind their favorite creators, eagerly watching and waiting to witness YouTube history in the making.
Stay Connected!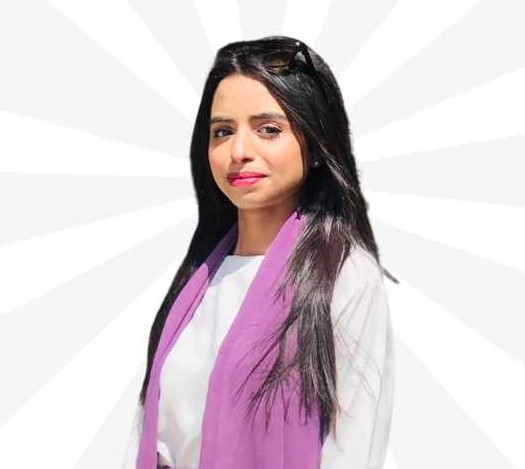 Mina AKA Minahil is an invaluable member of our MrBeast News team, serving as the Author & Content Editor and providing vital emotional support. She has experience covering all niches in blogging with the most interest in famous personalities and daily basis news. Her attention to detail is unparalleled, ensuring that our content is not just clean, but squeaky clean.