MrBeast and Tom Brady Join Forces in $1 Billion Yacht Video, NFL Legend Teases Return and Thanks To MrBeast!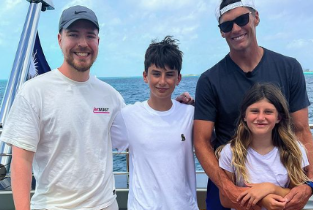 With a combined YouTube following of over 159 million, MrBeast and Tom Brady have established themselves as influential figures in their respective fields. Known for his grand-scale challenges and jaw-dropping acts of generosity, MrBeast has built an empire on his YouTube channel.
In an unprecedented collaboration that has left fans excited, renowned YouTuber and philanthropist MrBeast have teamed up with NFL legend Tom Brady for a monumental video project.
The duo recently took to the open waters in a jaw-dropping display of luxury and extravagance, pitting "MrBeast's $1 Vs $1 billion Yatch". The resulting video has captured millions' attention and sparked rumors of a potential return to the football field for the legendary quarterback.
Tom Brady Teases NFL Return
Tom Brady needs no introduction. Widely regarded as one of the greatest football players of all time, Brady's career has been nothing short of remarkable.
With seven Super Bowl victories under his belt, the quarterback's accomplishments on the field have solidified his status as a sporting legend.
Retired NFL legend Tom Brady, known for his incredible achievements on the football field, surprised fans once again with another unexpected revelation.
Despite previously expressing his clear stance on a potential comeback to the league in 2023 and his desire to steer clear of facing formidable players like Aaron Donald, Brady dropped a hint that hinted at a possible change of heart. In a video featuring popular YouTuber MrBeast, Brady was captured saying, "Maybe I should come out of retirement."
As You can See in the Video by NFL on Twitter: "Tom Braddy makes it look too easy(via MrBeast)"

MrBeast Replied to NFL: "Football"
Legendary quarterback Tom Brady, who recently announced his retirement from professional football, made a bold statement that he might consider a comeback if he managed to hit the target on his first attempt. Despite the skepticism expressed by his daughter Vivian, Brady remarkably succeeded on his initial try.
To mark this momentous occasion, Brady chose to declare his retirement in a truly remarkable manner—aboard a luxurious yacht. With unwavering confidence, Brady described the yacht as "I think it's the nicest boat in the world."
Tom Brady Thanks To MrBeast
Tom Brady Is thanking MrBeast in his latest Instagram story: "Hahahaha thanks MrBeast for keeping my competitive drive alive"
Also added: "Benny and Vivi just missing my Jackie"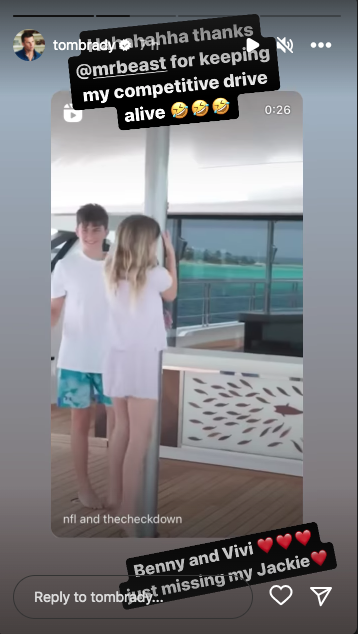 Benny and Vivi are the children of Tom Brady.
Conclusion
Tom Brady Hints at Potential Return to NFL in Recent Video; Confirmation on His Comeback Remains Uncertain.
As fans eagerly await further news, it is clear that this extraordinary collaboration has left an indelible mark on both the world of YouTube and the realm of professional football.
Let's See what would be the next step for Tom Brady.
Stay Connected for the latest information!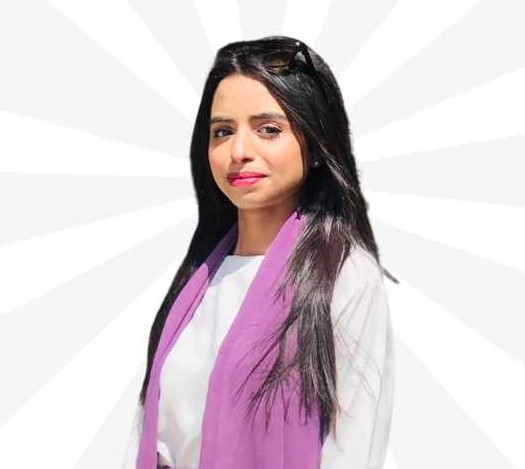 Mina AKA Minahil is an invaluable member of our MrBeast News team, serving as the Author & Content Editor and providing vital emotional support. She has experience covering all niches in blogging with the most interest in famous personalities and daily basis news. Her attention to detail is unparalleled, ensuring that our content is not just clean, but squeaky clean.