MrBeast Aims for 1 Billion Subscribers Within 5 Years But!,….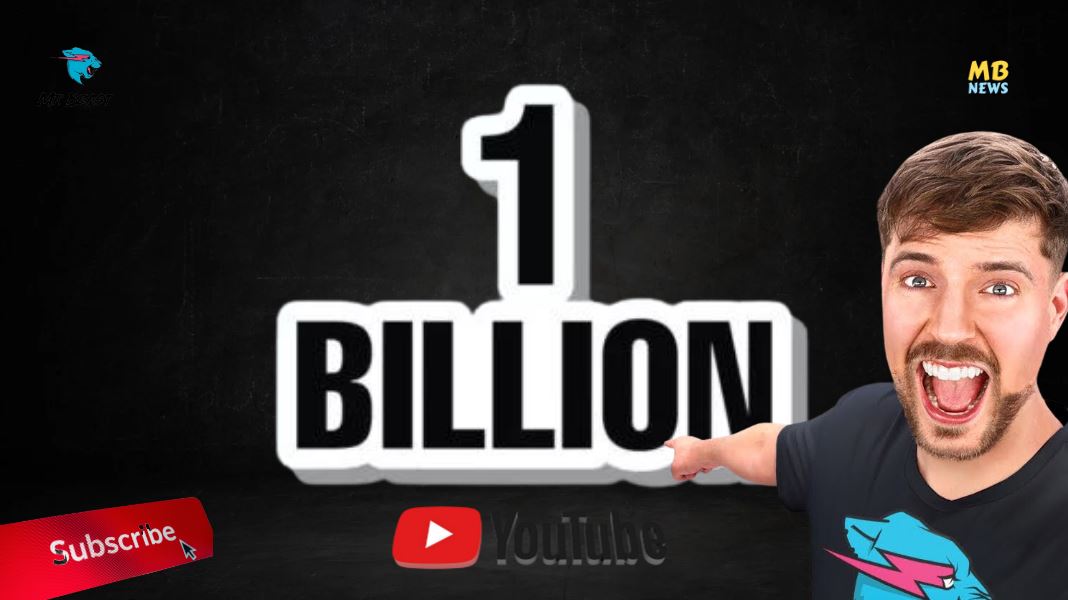 In the ever-evolving landscape of online content creation, one name has emerged as a beacon of philanthropy, entertainment, and exponential growth – MrBeast. With an astonishing subscriber count approaching 200,000,000, he has captured the hearts and minds of viewers worldwide.
1- Mr beast Set Goal
Initial Goal: MrBeast aimed to achieve 1 billion subscribers within 5 years.
Current Progress: At the time of the statement (01-08-2023), MrBeast's channel has 172 million subscribers.
Remaining Time: There are 1,461 days left until the 5-year deadline expires.
Daily Average Subscribers: To reach the ambitious goal of 1 billion subscribers within the remaining time, MrBeast's channel would need to gain approximately 561,000 new subscribers per day.
Today's Average Subscribers: However, the channel's current daily average of new subscribers is lower, standing at approximately 276,000 subscribers per day.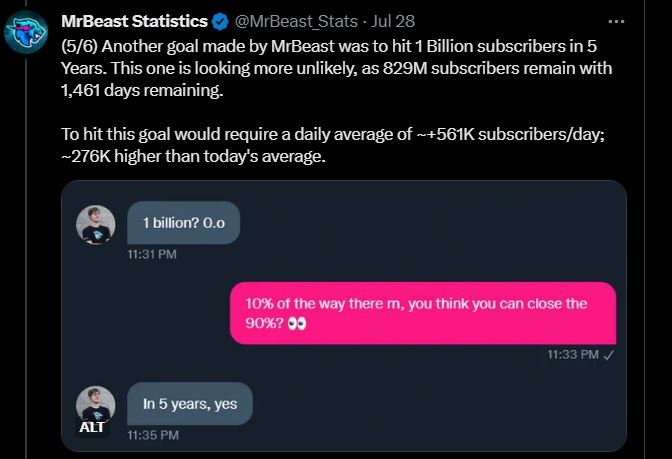 The passage suggests that achieving the 1 billion subscriber goal in the given time frame might be challenging because the required daily average of new subscribers (561,000) is significantly higher than the channel's current daily average (276,000).
However, it's important to note that MrBeast's channel might still experience growth, and the actual outcome will depend on various factors, such as the content produced, marketing strategies, and overall audience engagement.
2- T-Series Vs Mrbeast
MrBeast's channel experienced remarkable growth, going from 100 million to 172 million subscribers on YouTube.
It became the 5th channel to reach the 100 million milestone and later rose to become the second most-subscribed channel overall.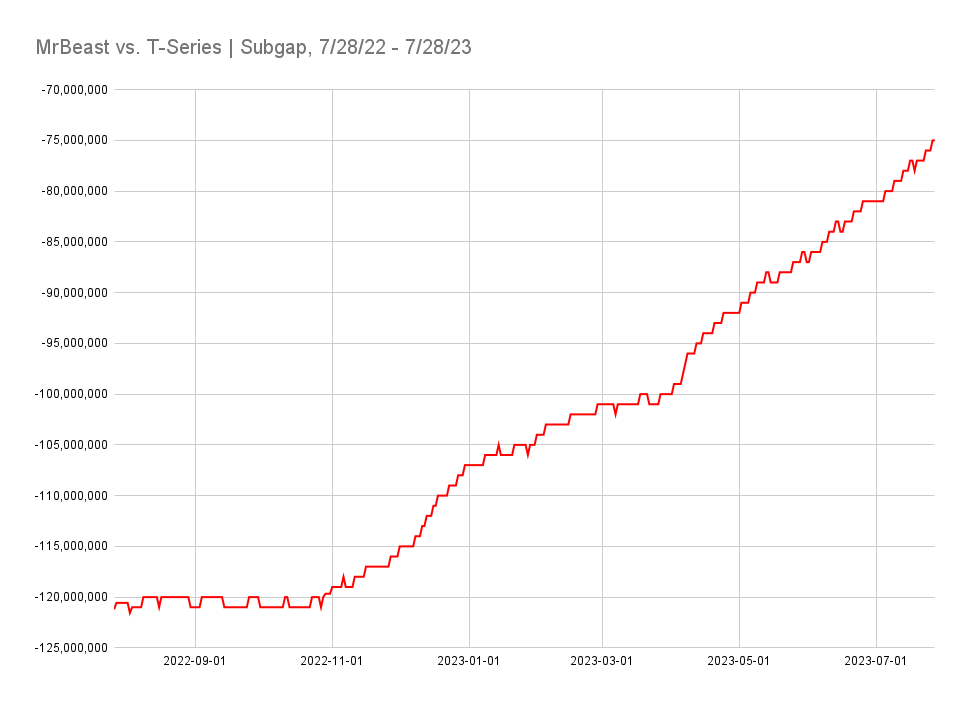 The channel's only competitor for the top spot in terms of subscriber count was T-Series. This growth and popularity highlight MrBeast's success and influence within the YouTube community.
in December 2022, MrBeast set a goal to surpass T-Series in terms of subscriber count within 2 years.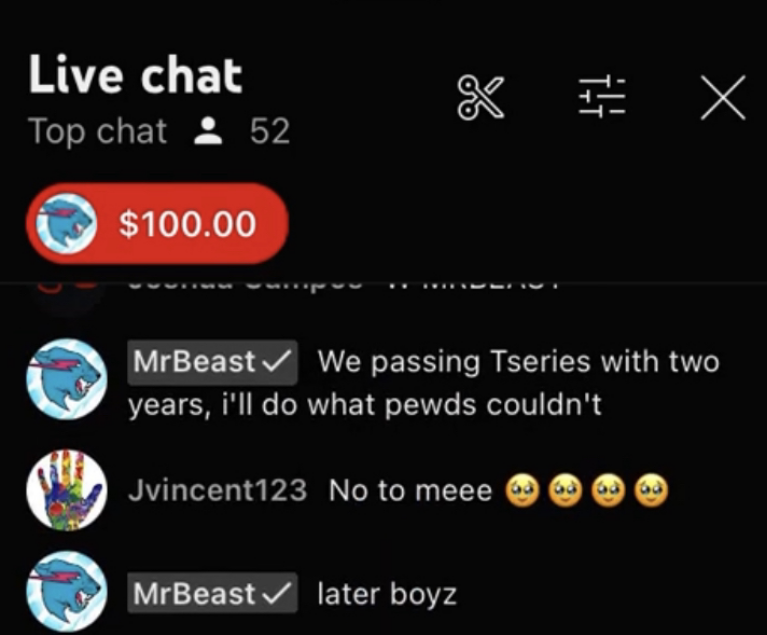 Current projections indicate that this goal is on track to be achieved earlier than expected, with an estimated completion date of July 26, 2024.
MrBeast's channel is steadily gaining subscribers, showcasing its continuous growth and potential to become the most-subscribed channel on YouTube.
3- Mr beast Vs The 100 Millions Subscribers Club
MrBeast's channel has experienced exceptional growth, breaking records on YouTube. In the last 365 days, it has gained an impressive 72 million subscribers since reaching the 100 million milestone.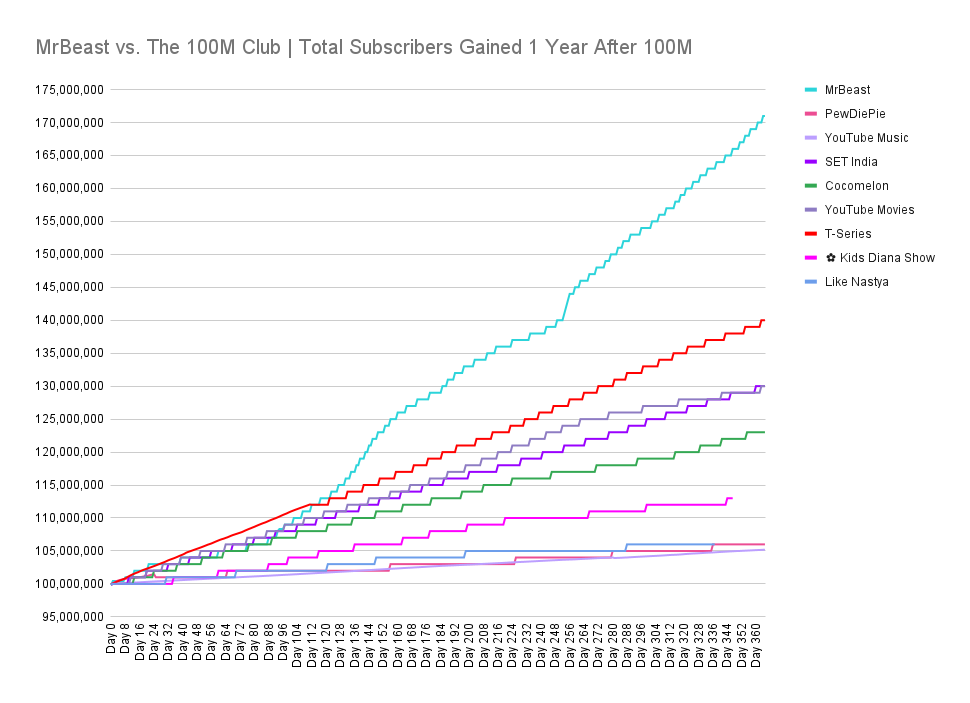 This growth rate surpasses all other YouTube channels with over 100 million subscribers. Notably, this level of yearly subscriber gains is unprecedented in YouTube's history, making it a significant achievement for MrBeast's channel.
4- Social Blade Claim & A Global Impact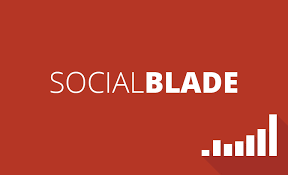 Social Blade, the authoritative platform for tracking social media statistics, predicts that MrBeast may cross the awe-inspiring milestone of 1,000,000,000 subscribers within the next 3.5 to 4 years.
While this projection is astounding, it is essential to acknowledge the vast and dynamic nature of the internet and its user base.
5- Agon – Project Nightfall Claim About Mrbeast
Agon, the content creator behind the YouTube channel "Project Nightfall," has made a prediction about MrBeast's potential to surpass 1 billion subscribers.
According to Agon's claim, if MrBeast continues to work non-stop, he could achieve the extraordinary milestone of 1 billion subscribers in 31.71 years.
MrBeast's Current Subscriber Count: As of August 1, 2023, MrBeast's YouTube channel boasts an impressive subscriber count of 172,000,000.
Calculation of Average Growth Per Year:
Average Growth Per Year = (Target Subscribers - Starting Subscribers) / Timeframe
Average Growth Per Year = (1,000,000,000 - 172,000,000) / 31.71
Average Growth Per Year = 828,000,000 / 31.71
Average Growth Per Year ≈ 26,097,825 subscribers per year

Based on Agon's claim, we can calculate the average subscriber growth MrBeast would need to achieve each year to reach 1 billion subscribers in 31.71 years.
Moreover
With an estimated 5,000,000,000 internet users globally, the realm of uncertainty surrounds such a colossal feat. However, the sheer scale of his current influence is indisputable and has left an indelible mark on the digital landscape.
The Power of Community
Central to MrBeast's success is the unwavering support of his dedicated fan base. His community of followers, lovingly dubbed the "Beast Army," is an army indeed, rallying behind their idol and ensuring his videos spread like wildfire across the internet.
Could MrBeast ever hit 1,000,000,000 Subscribers
by u/GorillazmanOfficial in MrBeast
The power of this community is a testament to the genuine connection MrBeast has forged with his viewers, transcending geographical and cultural boundaries.
Charting the Future
As we peer into the future of MrBeast's extraordinary journey, we are reminded that the internet landscape is ever-changing.
The predictions about reaching 1,000,000,000 subscribers are merely speculative, for the internet's dynamism defies easy prognostication.
Nevertheless, if MrBeast's past accomplishments are any indication, he will undoubtedly continue to create waves and inspire a new generation of content creators to redefine the boundaries of possibility.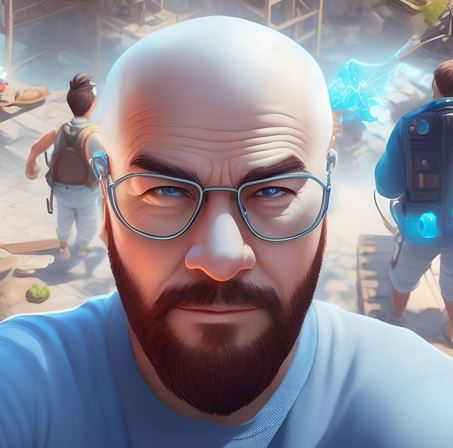 Introducing the ultimate hub for MrBeast fans and burger enthusiasts! Discover the latest news, updates, and behind-the-scenes insights into MrBeast's world-famous burger chain on this dedicated website. As a fellow fan, I've personally tried and tested a variety of MrBeast burgers, from the classic Chris burger to the irresistible Smash burger. Join me in this culinary journey and stay informed about new menu items and charity campaigns.
Don't miss out on the opportunity to satisfy your taste buds—bookmark this website and get ready for a burger experience like no other! If you have any complaints regarding my content or news, please email me @ mbeastnews@gmail.com
Thanks and Regards
Bobby